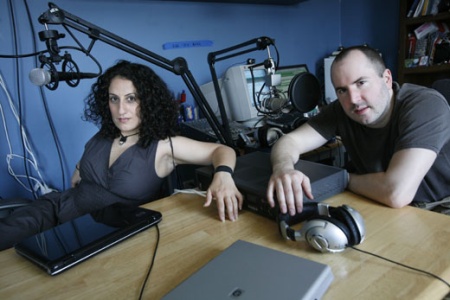 Podcast Hall of Famers Keith Malley and Chemda began the show Keith and The Girl on March 7, 2005. Known as the pioneers of podcasting, KATG is approaching 17 years in podcasting with the most episodes ever released.
Keith and The Girl has a loyal following and they keep growing their listenership with a show that delivers honest straight talk and hilarity at the same time. Past guests include: Marc Maron, Doug Stanhope, Gilbert Gottfried, Phoebe Robinson, Ilana Glazer, Adam Conover, Franchesca Ramsey, Kevin McDonald, Eugene Mirman, Tom Scharpling, Hannibal Buress, Andrew W.K., and many others.
Keith and Chemda have published the relationship book What Do We Do Now? with Random House. Released March, 2010, it went into its second printing within one week of its release. They've also published The Ultimate Podcasting Guide, a step-by-step guide to podcasting.
The show has been featured in The New York Times, The Wall Street Journal, Glamour, Cosmopolitan, Vulture, Mashable, Playboy, Maxim, and the covers of The Village Voice and Time Out NY, among others.
Keith Malley
As well as being the co-host of Keith and The Girl, Keith Malley is also a stand-up comedian and author. He has released 16 comedy specials that he records annually – one show, one take only. Previous openers include Bonnie McFarlane, Myq Kaplan, Mike Lawrence, and Dan Soder. His albums regularly reach #1 in multiple countries on iTunes.
Keith's published autobiography The Great American Novel and subsequent audiobook cover his religious upbringing and ordained father, time in jail, time in the Army, and his early comedy career.
Chemda
Born in Israel and raised in New York City, Chemda is a multi-talented creative. Along with being the co-host of Keith and The Girl, Chemda has had success as a writer and singer.
Chemda started her singing career collaborating with reggae artist Dr. Israel on his second album. She went on to be the lead singer and choreographer for the Mighty Dub Katz and was featured on Comedy Central alongside comedian Jeff Ross. Chemda teamed up with Rhys Fulber (formerly of Front Line Assembly) for Conjure One as writer and singer, with songs featured on ESPN.
Chemda has toured both North America and Europe as the vocalist for Conjure One, performing in notable venues such as The Commodore Ballroom and Irving Plaza. Chemda is a singer/songwriter on the album Patterns of War as part of dubstep band Dreadtone International as well as Voodoolulu's Meooow Royale. She continues to write and collaborate with various artists around the world.